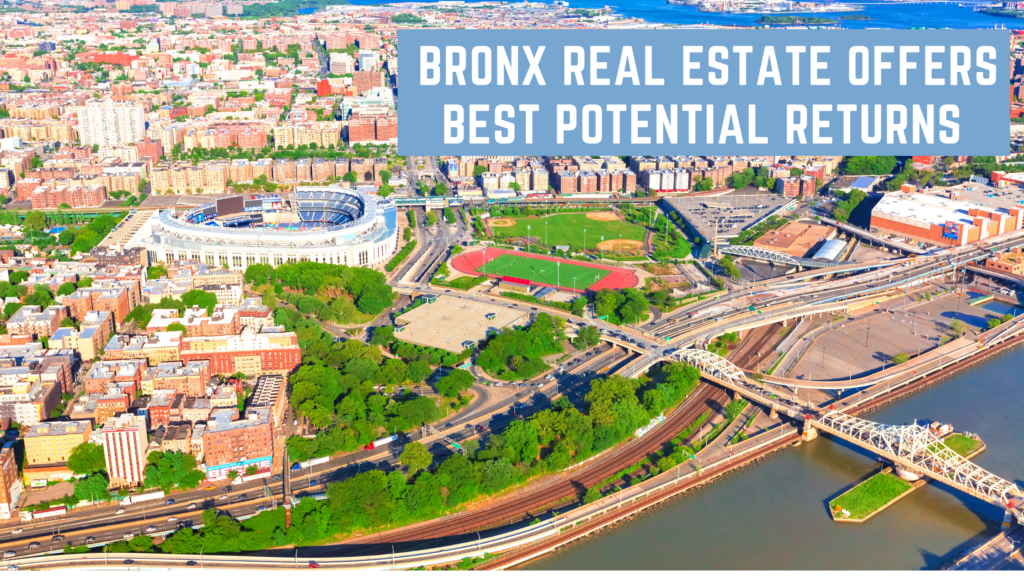 Looking for the best real estate return potential in New York real estate? As individuals and families have been priced out of Manhattan, Brooklyn, and Queens, the Bronx is seen by many as the last frontier of "affordable real estate" in New York City. Attractive pricing and proximity to Manhattan are the primary drivers of demand for Bronx real estate. The borough's proximity to major highways and public transportation, including the new Soundview Ferry, and four new Metro North stations, will make commuting easier, spur development, and attract new retail throughout the borough.
Bronx real estate may offer some of the best value in the city but the future growth reflects opportunities last seen in Brooklyn beginning after the 2012 election. From 2012 – 2019 median home prices have risen from $400k to $800k in Brooklyn according to Curbed Data provided by Miller Samuelson and Douglas Elliman.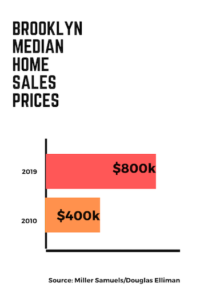 Brownstone NYC (BNYC) has invested in Brooklyn, Queens, and the Bronx for over 10 years allowing them to identify and help our clients participate in real estate trends. Managing Director, Schelton Assoumou, believes that the Bronx real estate market today is similar to Brooklyn's in 2011. He believes that the Bronx and Mt. Vernon neighborhoods offer investors the greatest opportunities for potential upside, saying
"Multi-family homes in the South Bronx are currently asking 25% more than when we flipped them just 4 years ago in areas no one wanted to risk capital and off everyone's radar."
Other industry professionals share the confidence in the long-term growth trend happening throughout the borough. Agents at New York City based boutique brokerage, Amian Realty, agree with the bullish assessment. Having represented BNYC in many investment sales throughout the Bronx, Peter Drinkwater, lead salesman at Amian Realty, adds "New market rate and affordable housing developments have successfully been leased up and or sold in Mott Haven and Grand Concourse with more residential and retail planned. Furthermore, with comparatively low land prices and historically low interest rates there's still tremendous untapped value in affordable and market rate development throughout the borough."
For instance,
Three Family in East Tremont asking $999,000
https://www.zillow.com/homedetails/1933-Vyse-Ave-Bronx-NY-10460/83178654_zpid/
Three Family in East Tremont asking $999,000
https://www.zillow.com/homedetails/2355-Washington-Ave-Bronx-NY-10458/83178529_zpid/
These asking prices offer appreciation potential like that which can be seen on properties like 637 E 233rd St Bronx, NY. Consider that Zillow expects the price range has been about $140,000 in the past 30 days alone! If you put bought the property with 20% of the asking price, the equity appreciation could be equal to your down payment. However, that's just the beginning. Other properties have seen better 30 day ranges, as seen at 414 E 140th St Bronx, NY 10454.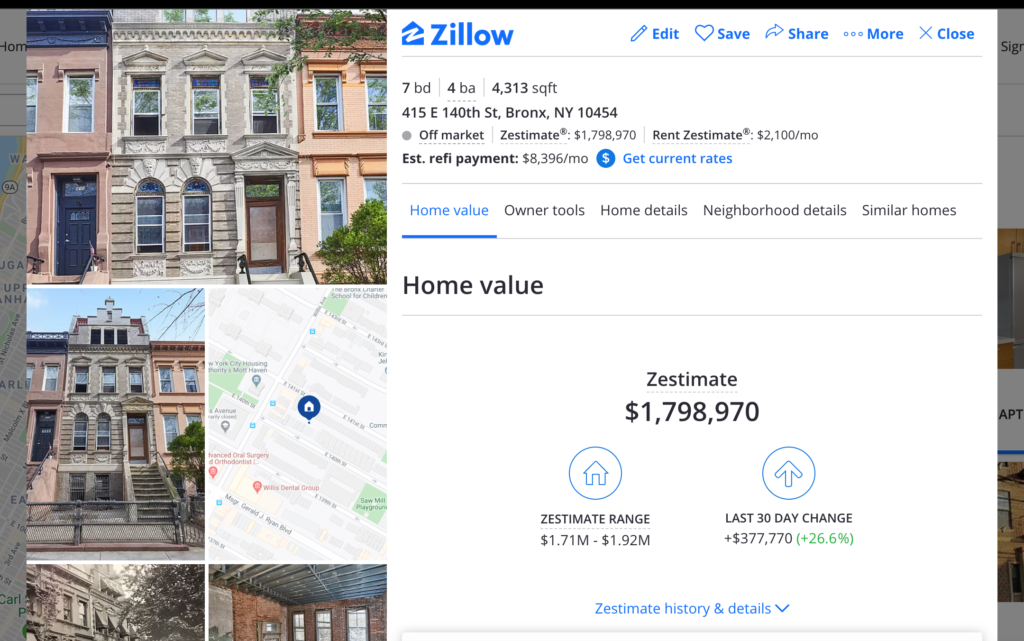 As the number of consumers from Brooklyn seeking larger properties accelerates, existing single family homes stand to benefit if priced correctly. With many companies delaying when they'll be returning to the office, or adjusting to a not requiring employees to being the office at all, these property trends could be sign of a longer term change. One leading company has been Nationwide Insurance, a Fortune 100 company, who has moved 98% of it's workforce to remote, permanently.
For many professionals this change comes as no surprise. Transitioning to working remote is easier than ever thanks to technology, but the trend began many years ago. Today's digital business solutions are allowing people to remain highly productive with continuing their work cycles. Digital business tools like Calendly, Docusign and Zoom have seen mass adoption giving consumers a quality experience at affordable rates.
As the work from home movement accelerates there has been high growth in many Bronx submarkets, particularly in the South Bronx such as, Mott Haven, Port Morris, and Grand Concourse.


These neighborhoods offer upside potential as they continue year over year growth. Mott Haven's proximity to Manhattan $700,000 properties could easily see price points of $1,000,000 thanks to it only being two stops away on the train.
Here are a few listings that support our view:
It's with this backdrop for demand that Bronx residents should expect growth moving forward. Consider that over the past 5 years, the value of properties in the Bronx has increased by 54%, the highest rate in NYC. These market changes can benefit both buyers and sellers. It allows first time homebuyers to buy a property that's more affordable than comparable neighborhoods in Manhattan or Brooklyn. Multi-Family properties in the South Bronx have appreciated in value an average of nearly 8% year over year the past 4 years. (1299 Clay sold for $525k in Jan 2016, just listed on the market for $699k in July 2020).
Despite the recent price appreciation, properties throughout the Bronx still offer homebuyers a significant discount to market. Comparable properties in the Bronx can be acquired for half to a third of comparable properties in Brooklyn.
For example,167 Hopkins St, Brooklyn, NY 11206 an occupied Two-Family in need of updates with 2 parking spaces sold for $1,300,000 in April 2020. A similar property at 1210 Vsye Ave, Bronx, NY 10459 a recently updated Two-Family with 2 parking spaces sold for $735,000 in March 2020.
Below is a snapshot of transactions Brownstone NYC and Amian Realty have partnered with to renovate and resell.
1299 Clay Ave – Two Family acquired distressed property requiring complete interior & exterior façade gut renovation sold for $525,000 in January 2016, just listed on the market for $699,000 in July 2020
1275 Teller Ave – Two Family sold for $562,500 in September 2016, estimated value July 2020 is close to $700,000
1353 Clay Ave – Two Family sold for $570,000 in February 2017, estimated value July 2020 is close to $700,000
In addition to more affordable properties, the Bronx has seen strong and steady price appreciation giving new homebuyers significant potential to build equity. The following listings illustrate the home appreciation and higher values in neighborhoods that would have been unheard just 5 years ago. In the Bronx, as you can see, the best is truly yet to come.
Two Family in Kingsbridge asking $1,100,000
https://www.zillow.com/homedetails/7-Armand-Pl-Bronx-NY-10463/2078949227_zpid/
Two Family in Parkchester asking $1,025,000
https://www.zillow.com/homedetails/1566-White-Plains-Rd-Bronx-NY-10462/29799226_zpid/
1 – Source Ariel Property Advisors 2019 Year End Report
2 – Source Ariel Property Advisors 2019 Year End Report
While many homeowners inside Manhattan and other urban cities are leaving for the suburbs, Bronx real estate offers attractive investment opportunities over the coming years. Investors and home owners can contact Schelton with questions about selling their property or opportunities.