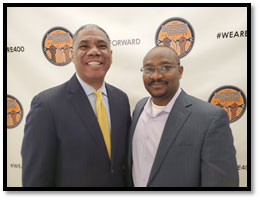 Schelton Assoumou invited to the 400 Foundation "Moving the Dream Forward Luncheon"
400 Foundation is a Not for profit, faith based foundation working to advance economic equality in New York City's development and construction Industry. Faith Leaders are stepping up to address 400 years of economic injustice by promoting Jobs and opportunities for men and women of color in New York City development and construction industry.
400 Foundation has initiated a dialogue with city, state elected officials to remove burdensome, prohibitive regulations and provide technical assistance that would give entrepreneurs a path to success and give minority owned development and construction firms in New York City, greater access to capital.
Schelton Assoumou, the Managing Director of Brownstone NYC fully supports all activities initiated or sponsored by 400 Foundation. He was one of the invitees at the Nov.15,2019 "Moving the Dream Forward" Luncheon that was sponsored by Citigroup and held at Citi Group's Global Headquarter in New York City.
This Luncheon was seeking to raise $3 Million for several foundation Programs such as:
A 400 Foundation Think Tank/Task Force
The 400 Skills Pipeline
The 400 Business Accelerator
The Faith based Development REIT (Real Estate Investment Trust)
Supporting the 400 Forward Legislative Push
The event was supported by Citigroup's Crystal Mc Gary and Raymond J. McGuire and Real Estate Board of New York Jacqui Williams In 2020.
Based on his personal story, Schelton intends to launch "ASK Second Chance Foundation"("ASK") in 2020.
ASK will be a platform to execute recent criminal justice reform initiatives and create an execution vehicle to outreach programs such as the 400 Foundation, Marshall Project, STRIVE, etc. For example, ASK will provide job training, professional certificates and licenses for a new career, financial literacy, affordable housing for individuals dealing with the criminal justice.

Learn about a real community investment model here.